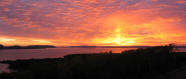 NIGHTHAWK CHARTERS
LAKE NIPIGON
Location:
Our operation is a ninety mile drive northeast of Thunder Bay.
Follow Highway 17 to the village of Nipigon. Take Highway 11 north (approx. 30 miles) to Nighthawk Charters, located on the southeast shore of Lake Nipigon. Some of our clients prefer to fly to the Thunder Bay airport and rent a vehicle for the scenic drive. From the east, (Sault Ste. Marie) we are approximately a 350 mile drive on the Trans-Canada Highway, and 30 miles north of Nipigon on Hwy. 11. The north shore of Lake Superior is renowned for its wild, rugged scenery and is well worth the drive.
Lake Nipigon Fishing & Hunting Charter Rates:
Spring and Fall (May 15 to July 1 & Aug. 20 to Sept. 15)
$285 daily per person
Summer rates
$265 daily per person
Inquire about reduced rate for larger parties (8-10)
Above rates are subject to 13% tax

No charge for overnight accommodation at the dock the evening of arrival.
For your convenience we supply:

pillows and towels
gas for 16' Lunds
life jackets, nets and seat cushions
fishing licences are sold on board
meals & accommodations
we clean your catch and provide ice for packing


We suggest you Bring:

sleeping bags
fishing rods, tackle & live bait
coolers for packing your catch
raingear, waterproof footwear
beverages & snack foods
camera
Contact:

Don't be disappointed with your vacation choice--our reputation is backed by references from repeat customers. We will be pleased to provide a list if requested. Additional photos of the lake, fishing or adventure packages and accommodations are also available. Here are some points to consider when booking your Lake Nipigon fishing charter:

Our equipment is up to date, serviced regularly and in good working order.
The Nighthawk II is well maintained with modern navigation aids and safety equipment.
Full meals are prepared using only fresh veggies, fruits and top quality meats.

"I can honestly say I have never seen a finer outfitter that consistently provides the very finest fishing venue, accommodations, food and hospitality. We look forward to coming back and sharing in the wonderful resource which you provide such great access to."
Mark Laliberte

To arrange booking dates, e-mail us at: tcarroll@xplornet.com or contact:

Brenda Carroll
Box 16, Beardmore, ON P0T lG0
Phone (Carroll): 1(807)885-3171


Home l Introduction l Lake Nipigon l Accommodations l Fishing l Kayaking l Hunting l Contact l Gallery